Ductless Cold Climate Heat Pumps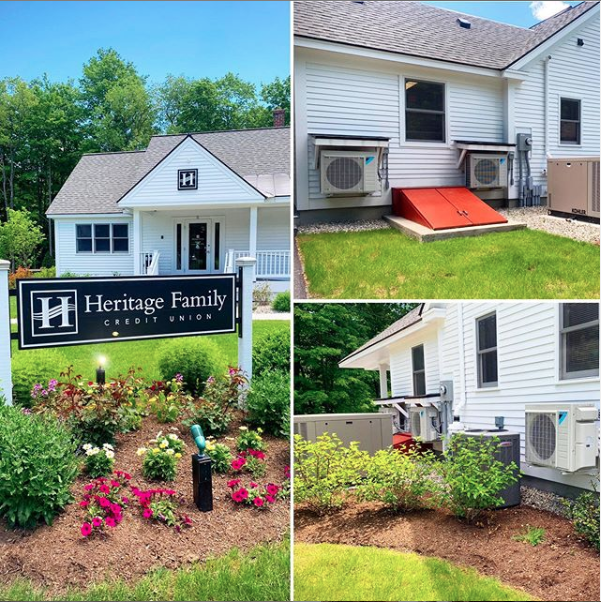 Cold Climate Heat Pumps offer home and building owners many benefits, including, energy-savings, environmentally-friendly, combustion-free operation, on-demand heating/cooling, high efficiency, and low sound levels – just to name a few! Often referred to as "mini" or "multi-splits", ductless heat pumps eliminate the need for an ugly and loud window air-conditioner in the summer and offer secondary heat during the coldest times of the year.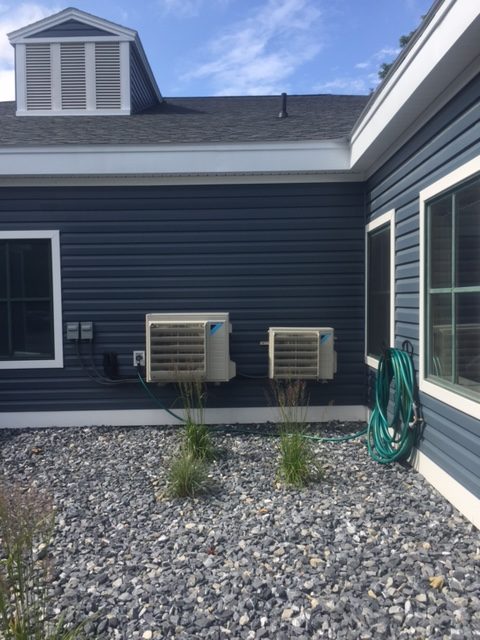 Some benefits of Ductless Heat Pumps include:
Efficient heating and cooling without the need for on-site fuel storage (ie: propane/oil). Because there's no combustion processes involved, there's no risk of carbon monoxide or gas leaks into the conditioned space.
Ductless Heat Pumps' Inverter driven compressors work to save energy by varying speeds based on demand (similar to how the gas pedal throttles the speed of your car), compared to old heat/cool systems that either operate at 100% capacity or not at all, which is extremely energy & equipment intensive.
Without the need for ducting, installing ductless heat pumps is less labor-intensive, saving you money on labor costs, compared to a fully-ducted central air system.
30% energy savings compared to standard through-the-wall or window air conditioners
Optional accessories including: hardwired Daikin Smart thermostats, & remote wifi controls via the Daikin Comfort Control App
modern, low-profile appearance
ability to adjust air speeds, air directions, dehumidify, circulate air with just the fan settings, set schedules, & switch between heat or cool at the touch of a button
remote control. Each ductless heat pump comes with a easy-to-use, wireless remote.
Easy maintenance. Indoor filters are washable & easy to clean, saving you costs on replacement filters. Outdoor condenser coils should be cleaned at least once each year, even more if pollen is heavy & unit is in a highly-trafficked area, preferably before or during the cooling season! Call GSK to schedule your annual A/C Maintenance to prolong the life and performance of your equipment.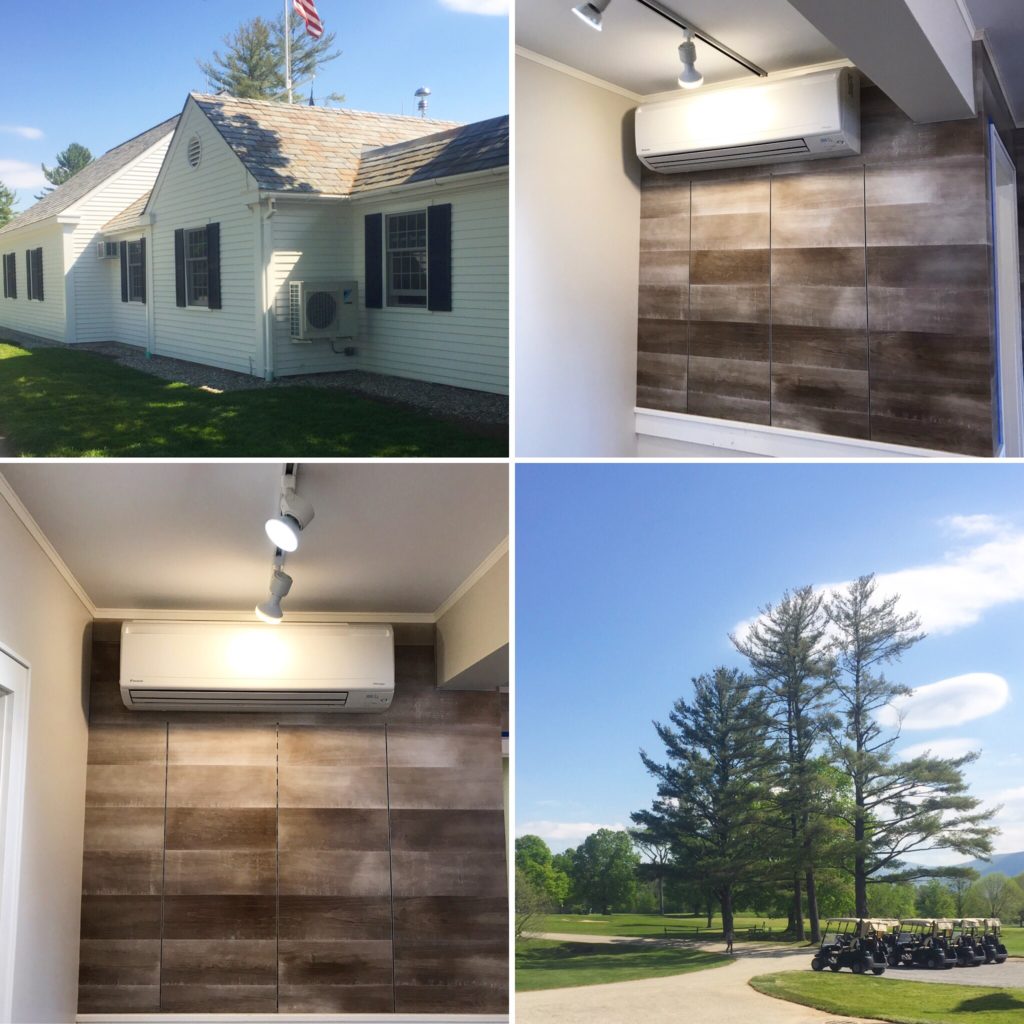 Ductless Heat Pumps are currently eligible for Efficiency Vermont Rebates which are only available at the point-of-sale through the distributor. A $400 rebate is available for single or multi-split systems 2 tons or smaller. A $500 rebate is available for multi-split heat pumps systems over 2 tons. It's important to note that A/C-only units are not eligible for the rebate (must be a heat pump). If you're an existing Green Mountain Power customer, you're also eligible to receive a $400 rebate per condensing unit from Green Mountain Power directly. Rebates are subject to changes/deletion after December 31st, 2019.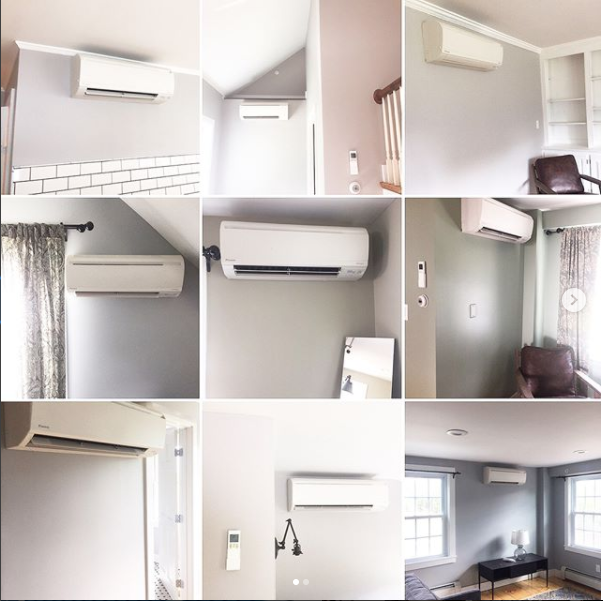 Ductless Heat Pump systems consist of two primary pieces of equipment: an outdoor condenser, which contains the compressor and condenser coil and an indoor air handler, which contains the evaporator coil. Refrigerant lines along with power & drainage are routed between the outdoor Condenser and the indoor air handler through a 3 inch opening in the structure. The term "Mini-split" refers to a single system with one outdoor unit and one indoor unit. "Multi-split", denotes multiple indoor units connected to just one outdoor condenser.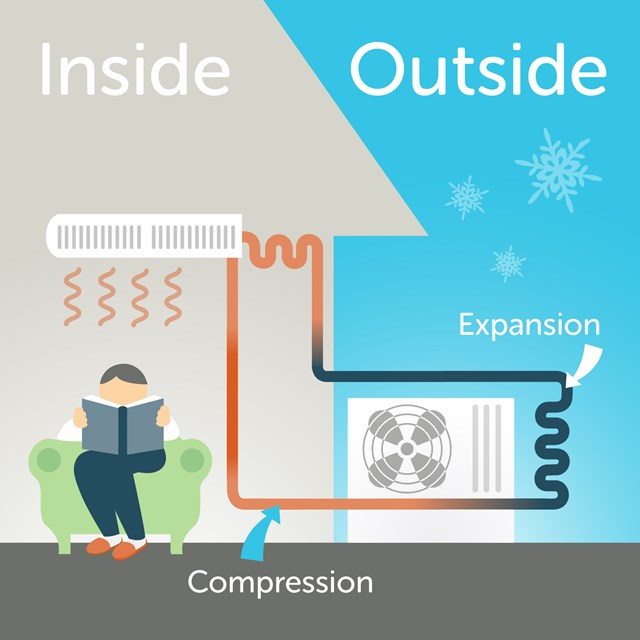 Heat pumps operate by transferring heat from one place at a lower temperature to another place at a higher temperature, following the laws of thermodynamics. Simply put, Heat Pumps heat or cool a space by transferring heat via a pump (aka: compressor), heat transfer coils (aka: condenser coil – outside and an evaporator coil – inside) and a heat transfer fluid (aka: refrigerant). In cooling mode, heat pumps absorb heat from indoors and move it outside where it's rejected through the condenser. In heating mode, heat pumps absorb heat (yes, even in freezing weather) from outside and reject it inside.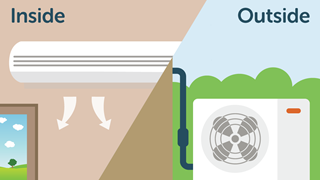 Another advantage to ductless heat pumps is the placement flexibility. Outdoor Condensers can be hidden under a deck, porch, enclosure, or on a remote side of the building. Indoor units can be placed in common areas or specific rooms. An open area is easier to heat/cool versus many individual rooms.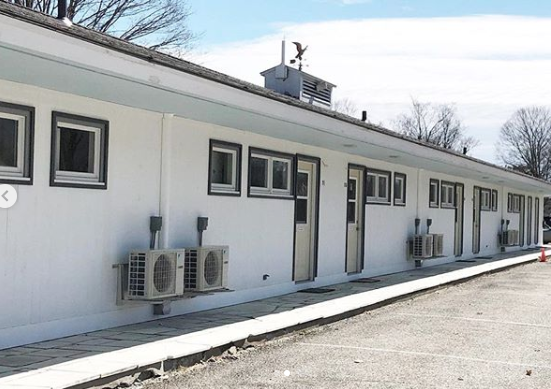 Consider improving the thermal efficiency of your building by air sealing and upgrading insulation to eliminate drafts before installing heat pumps. This will allow for the contractor to size a smaller size heat pump that will use less electricity and be more efficient.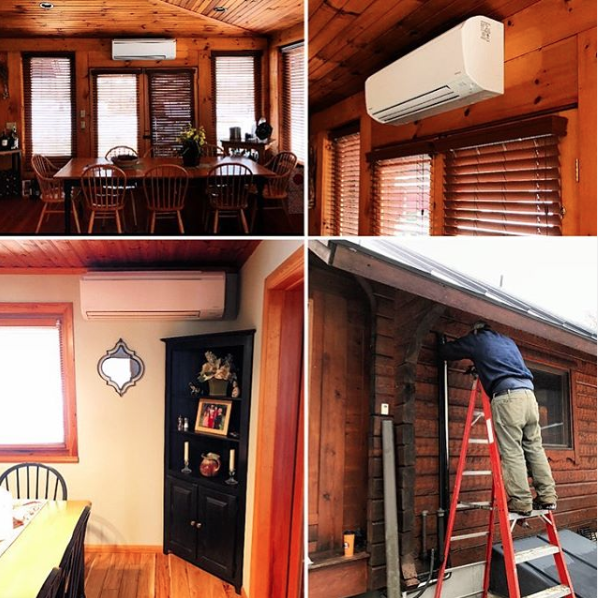 For more information on Cold Climate Heat Pumps, call GSK to schedule a free consultation & quote for your home or business today!